On this page
Support On Your Parenting Journey
Introduction
Pregnancy is such an exciting time. There's so much to look forward to! Not the least, meeting your baby, holding them for the first time and watching them grow.
But at the same time, becoming a new parent brings with it so many unknowns. How many nappies will you need to change a day? Will you be able to tell what your baby needs when they cry? Will you ever sleep again?
However you're feeling about your impending new arrival, we're here to reassure you with our best advice and tips for new parents.
Preparing For Your Baby
Before your baby arrives, there's some things you need to do to get your ducks in a row. Life as a new parent can be quite hectic so the more you can do before they arrive, the better off you'll be.
Nursery Set Up
Even if your baby sleeps in a cot or bassinet in your room for the first few weeks or months, you can still get a head start on your nursery setup now. You'll still use the nursery for things like changing nappies and storing your baby's clothes and toys.
The most important thing when setting up your nursery is to avoid any potential hazards. Don't place the cot or change table near blind cords or curtains as babies can get caught up in these. It's also advisable to avoid bumpers, pillows or loose bedding as these don't meet safe sleeping guidelines. Be sure to also fix any furniture, such as drawers, to the wall.
These days, you have almost endless options for decorating your nursery. Choose a theme and then have fun with it. Jungle and woodland themes are popular, as well as dinosaurs and rainbows. If you don't want to theme your nursery, why not pick a colour or set of colours and use that as your style inspiration?
Baby Nursery Equipment
It can seem daunting just to think about the list of nursery equipment you'll need. We suggest that you keep it simple to start. Your baby will need a:
cot or bassinet (plus bed linen)
changing table or changing mat
nursing chair
Depending on your budget, you might also want to consider a:
Outside of the nursery, you'll also need a:
stroller or pram
baby car seat or capsule
baby carrier for babywearing
high chair for when they start solids
playpen to keep baby safe while they play
safety gates to keep your baby out of particular rooms or away from stairs

When you're buying any baby equipment, check that it follows any relevant Australian Standards. For example, cots must meet AS/NZS 2172:2003. If you're buying second hand products, double check that they're in good condition and that your baby will be safe while using them.

Parental Leave
There are two types of parental leave - paid and unpaid. Under federal legislation, if you have worked at an employer for at least 12 months and either you or your partner gives birth to a baby, then you're eligible for 12 months of unpaid parental leave.
The Australian Government Parental Leave Pay Scheme also offers eligible employees up to 18 weeks of paid parental leave from the federal government. This is paid at the National Minimum Wage and includes a fixed portion of 12 weeks that must be taken within 12 months of the child being born. The remaining 30 days can be used flexibly within the first 24 months of the child being born.
Under the Parental Leave Pay Scheme, Dads and Partners – including same sex partners – are entitled to two weeks of Dad and Partner Pay. This is also paid at the National Minimum Wage.
To receive these payments, you must apply and provide relevant details. It's best to start these applications early rather than waiting until your baby arrives.
Some employers also offer additional paid parental leave entitlements. You can check with your employer to find out what you may be eligible for.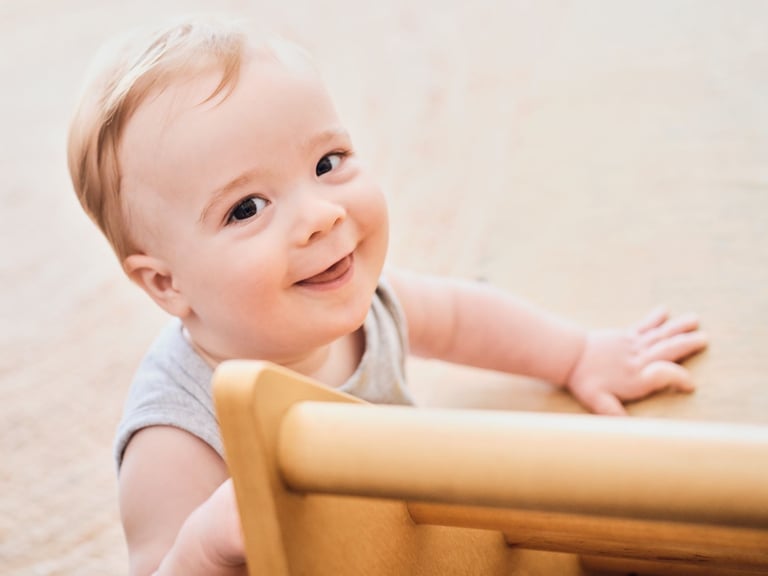 Child Safety
Before you have a baby, you don't realise just how many hazards are lurking in your home. Now's the time to give yourself some peace of mind by looking around your home to identify and remove hazards.
Home Safety
One of the most important elements of home safety is hygiene. This is particularly important when you have a newborn as their immune system is more vulnerable than older children. Babies will try to put everything in their mouth so it's important to keep surfaces clean. If people are visiting, also ask them to stay away if they are feeling unwell.
As your child gets older you'll have other home safety concerns to think about. If you have stairs, baby gates can block the entrance so children can't climb up… or fall down! Also beware of blocking access to heaters and baby-proofing the kitchen and bathroom with locks and latches.
Supervision is also crucial to keep your baby safe at home. Keep them within sight so you can be sure they're safe. If you have pets or other children around, stay within arm's reach as they can be unpredictable.
Preventing Falls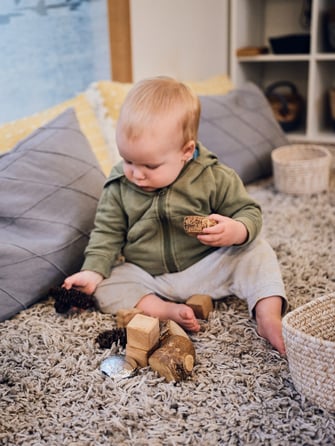 Falls are the most common cause of childhood injury. Babies can easily roll off a changing table, couch or bed.
When you change your baby's nappy, if you need to walk away to get nappies or wipes, take your baby with you. Also, never walk away if they're lying on the couch or on a bed. Babies can learn to roll very quickly and even a fall from a low couch can cause an injury.
As your baby starts to crawl and walk, you also need to be aware of what they can use to pull themselves up and climb. You'll probably be surprised at how quickly your child can learn how to scale to the top of the kitchen bench!
Be sure to lock windows and not leave furniture in front of them that a child could easily climb.
Car Safety
In Australia, you must follow the rules for car restraints. All car seats must meet the Australian standard - AS/NZS 1754, and:
Children must be seated in an approved rear-facing child car seat or baby capsule until they are at least 6 months of age.
From 6 months to four years of age, children must be seated in an approved rear or forward-facing child car seat.
From the age of 4, children must be seated in an approved forward-facing child car seat or booster seat.
It's recommended that children aged 7+ use an approved child car seat or booster seat until they can fit an adult lap-sash seatbelt.
For peace of mind, you might also consider having your car seat professionally installed.
You should never leave your child unattended in the car. The inside of a car can heat up very quickly, which can lead to dehydration, heatstroke or organ damage.
Water and Bath Safety
Babies and young children should never be left unsupervised near water. The sad reality is that it only takes a very small amount of water and a short amount of time for a baby to drown.
Before you run a bath for your baby, get everything ready. That includes the soap, washer and towel. Leave them all within arms reach so you can still keep a hold of your baby while you get their towel or the soap.
The temperature of the bath water is also important. It should be between 37°C and 38°C. You can check the water with your elbow to be sure that it isn't too hot, or alternatively use a bath thermometer. When you fill the bath, start with cold water first and then add warm water to bring the temperature up.
Once the bath is over, empty the water straight away. It's so easy to forget to do simple tasks like this if you don't do them immediately. The same applies for paddling pools or buckets of water. Never leave this with water in them and always ensure that children are supervised by an adult while using them.
New Parents
Once your baby arrives, life changes in an instant. You now have this precious little person to care for. As exciting as it is to finally meet your baby, it can also be an emotional time for new parents as it feels like your life has turned upside down.
Bonding
There's nothing quite like the bond between a parent and their child. For some, this bond happens instantly. Your baby is placed in your arms and you feel an immediate connection. For other new parents, it takes a little more time. This is completely normal and not something to feel guilty or worried about.
Forming a secure bond and attachment with your baby is critical for their development. So, how can you bond with your baby? Try some of these ideas:
Sing nursery rhymes to your baby.
Cuddle them regularly, particularly when they cry.
Make eye contact while you talk to them. They won't understand what you're talking about or respond but this is reassuring to them and also helps with their language and social development.
Wear your baby in a carrier or sling so they feel close to you.
Play with your baby or lie with them while they do tummy time so they can see your face.

Baby Expenses
Having a baby comes with a number of expenses. In fact, those expenses can total between $5,500 to $9,000 in the first year of your baby's life. That's quite a daunting figure at a time when your family income is impacted by unpaid leave or a reduction in your salary.
When you're putting together your baby budget, you need to consider expenses like:
Medical and hospital costs involved with having your baby
Nursery furniture and other baby goods
Formula and bottles or breastfeeding accessories (such as a pump)
Maternity and breastfeeding clothes
Baby clothes, swaddles and blankets
Nappies (and lots of them!)
Childcare fees
There are ways to save money on some of these items. You can buy second hand goods but be sure to check that they need the relevant safety standards. You can also start stocking up on things like nappies before your baby arrives by buying them when they're on sale. You can also sell things that your baby has outgrown to help cover other baby expenses.
Sleep Deprivation
Sleep deprivation with a newborn is real. Young babies can wake several times through the night to feed. This is quite normal but it doesn't make it any easier to cope with!
You can't pour from an empty cup so it's important that you also try to rest so you can care for your baby. It's so hard to look after your mental health when you've had no sleep.
During the day, sleep when the baby sleeps. Yes, there is housework and washing to do. But it will still be there tomorrow. You likely won't need to nap every day, but if you're feeling particularly sleep deprived, rest when you can.
Knowing that you'll need to wake up through the night, try to go to bed early, even if it's only an hour before you would normally go to bed. You may also be able to share the evening wake ups with your partner.
There are different ways you can help your baby fall asleep. For some babies, the sleepless nights are just a phase. But not all babies get the message about the need to sleep! If your baby is really not sleeping, you can also look into sleep training.
Family and Partner Support
As you navigate the challenges of new parenthood, having the support of your partner and/or family is crucial.
For partners, recognise that you each have a unique connection with your baby. You may even have a different parenting style or parenting philosophies. Sleep deprivation can cause tension in a relationship so keep the communication lines open. If your partner can cook dinner or do the washing while you look after the baby, that can make a huge difference in your day.
If your partner is working during the day, they may also feel disconnected from your baby. To help with this, it can be beneficial for them to take on the responsibility for tasks such as bathing the baby or giving the 10pm feed.
You both need to stay connected to your social network and connect with other parents as well as enjoy quality time with each other. Whether that's through a date night or a conversation each night before you go to bed. A positive attitude can make all the difference.
As for family support, if you have family close by that can help, reach out and ask for their support. If they have already offered, don't feel ashamed to accept their help. Raising a child takes a village so build your village around you!
Parenting Advice
As hard as they seem at the time, the baby years are the easy part. As your baby develops and grows, you have whole new sets of challenges that come your way.
Childcare and School
One of the biggest decisions you'll make in the early years is where your child goes to childcare and then school.
At early education and preschool, your child can develop their social, emotional, cognitive and physical skills. They're surrounded by peers and have nurturing educators who can guide their development. They can make new discoveries every day as they explore the world around them.
Your child's first day can be a very emotional time for you as a parent. It's hard to leave your baby (or toddler) in someone else's care. Take the time to make a careful decision about the centre you choose.
When you're choosing an early childhood education centre, consider how the values of the centre align with yours. Think of the questions you want to ask the childcare centre, such as how they communicate with parents and what qualifications their educators have.
To help cover the costs of childcare, you may also be eligible for the Childcare Subsidy. To determine your family eligibility, you can use the Childcare Subsidy calculator.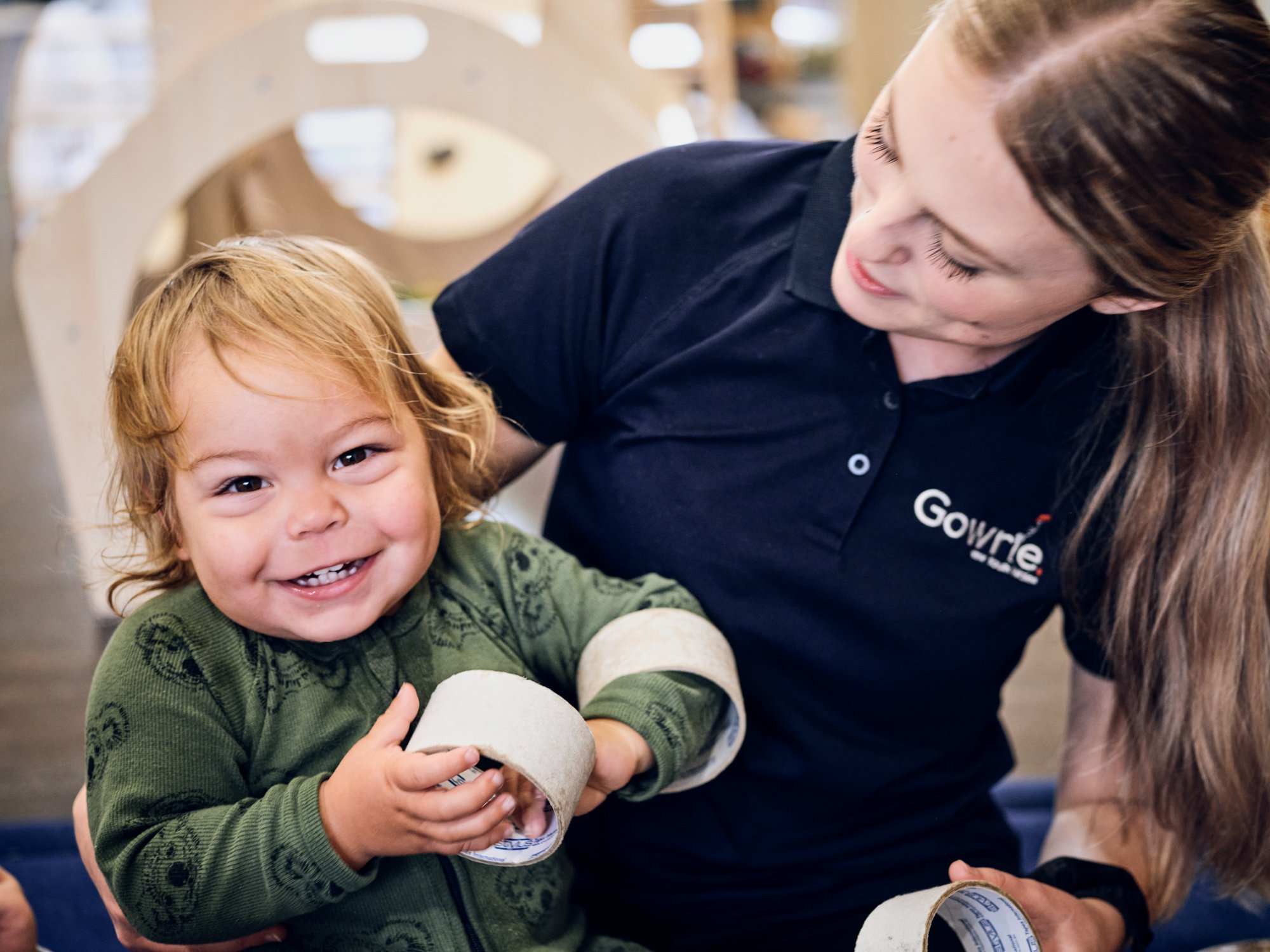 Hobbies
Extracurricular activities are great for children to be involved in. This gives them the opportunity to learn new skills outside of school or preschool and also build on their unique interests.
Hobbies can also be a good opportunity for you to connect and bond with your child, particularly if you share the same interests.
At home, you can read, garden or cook with your child. It can be as simple as reading a book together at bedtime or baking cookies on the weekend, to designing and planting your entire garden. If you need inspiration, use these resources to get you started.
Drawing or doing crafts with children is also a great way to express your creativity together. You may often find that a child will talk to you about things that are worrying them when they feel safe and connected in these moments.
For extracurricular activities, the options are endless. You can enrol your child in dancing lessons, music classes, sports activities and so much more. Your child may find something they love straight away. Or they may need to try a few different activities before they find something they love.
Pets
Having a pet is a wonderful way for children to learn about responsibility and care. Children also learn how to interact with animals and have the benefit of companionship that animals provide.
Dogs and cats make excellent pets. But if you don't want the commitment and expense that comes with owning larger pets, there's a number of small animals to consider. Hamsters, guinea pigs, rabbits, birds and fish are all great options.
How do you choose? Think about the age of your child and their personality as well as your lifestyle. Dogs need to be walked everyday and need quite a lot of attention. If you're at work all day, a smaller pet might be a good option.
Whatever animal you choose as your family pet, always supervise your child while they're with the pet. A cat may only have so much patience if a toddler keeps pulling their tail!
Support on your parenting journey
New parents don't have all the answers. And neither do experienced parents. Everyone thinks that they have the best advice to give. But the best advice is the advice that works for you and that helps you and your child thrive.
Your child has their own personality that is completely unique in the world. As you get to know them and learn about yourself in your new role as a parent, we're here at Gowrie NSW to support you and your child.
Contact us to book a tour of one of our centres to learn more about our approach and how your child can make new discoveries every day with Gowrie NSW.
Published 25th August 2022
Topics: Parenting