Gowrie NSW celebrates Reconciliation Week 27th May – 3rd June 2021 with some home-grown Indigenous favourites
Let's try some delicious Bush Tucker Recipes.
Lemon Myrtle Chocolate damper

The Lemon Myrtle is a beautiful Australian shrub, whose leaves have been used by Indigenous Australians both for medicines and as a food source for thousands of years. It's now used worldwide...with Jamie Oliver using it in a recipe recently.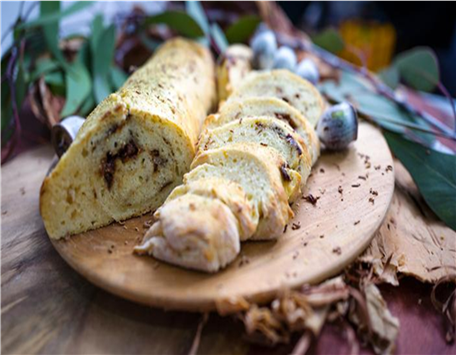 Ingredients
450 gself-raising flour, plus extra for kneading
1 tbspicing sugar
1 tspsalt
50 gcold unsalted butter, chopped
125 ml(½ cup) warm milk
250 ml(1 cup) warm water, plus extra for brushing
50 glemon myrtle chocolate (half broken, half grated)
1 tspdried lemon myrtle
1 tspcaster sugar

Instructions
Preheat the oven to 180˚C.

1. Sift the flour, icing sugar and salt onto a work surface. Rub in the butter until the mixture resembles breadcrumbs. Make a well in the centre, then add the warm milk and water and incorporate with your fingertips until the dough comes together (warm liquid is easier to work into flour and the result is smoother and lighter).

2. Turn out onto a lightly floured work surface and shape into a rectangle about 1 cm-thick. Sprinkle with the grated and broken chocolate, then roll up into a log starting from one long side.

3. Place onto a baking paper-lined baking tray and brush all over with milk. Dust with the lemon myrtle and caster sugar, then bake for 25-30 minutes or until golden.
Lemon Myrtle Chocolate Crackles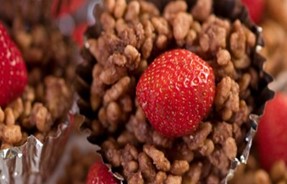 Ingredients:
2 cups rice bubbles or rice crispies
0.5 cup icing sugar
0.5 cup desiccated coconut
125 g copha
1.5 tablespoons cocoa powder
1 tablespoon Lemon Myrtle
12 strawberries

Method:

1. In a large bowl, mix rice bubbles, icing sugar, coconut and cocoa.
2. Melt copha in a saucepan over low heat. Stir through lemon myrtle. Add to rice bubble mixture and stir to combine.
3. Spoon mixture into patty cases, top with a strawberry and refrigerate until firm.
4. Makes 12


Chocolate River Mint Fudge Brownie
Native River Mint (aka. Wild Mint) is a smaller, more delicate relative of more well-known mints like peppermint and spearmint. It has long been used in Aboriginal culture as a flavoursome bushfood, insect repellant and medicinal herb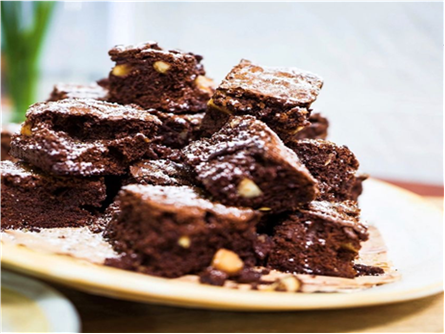 1. Preheat the oven to 180C. Grease and line a 20 cm square tin with baking paper, leaving the sides overhanging.

2. Place 180g of chopped chocolate and 120g of unsalted butter in a small saucepan over low heat and stir until melted and smooth. Remove from the heat, then stir in 1 tbsp golden syrup until well combined. Set aside to cool slightly.

3. sift the flour and baking powder onto a piece of baking paper.

3. Place 2 eggs, 150 of caster sugar, 1 tsp of dried river mint and a pinch of salt in the bowl of of an electric mixer fitted with a whisk attachment and beat on high speed for 2 minutes or until thick and pale. Fold in the cooled chocolate mixture, then 80g of plain flour and 1 tsp of baking powder until just combined. Gently stir through 100g of chopped macadamias. Pour into the lines tin and bake for 20 - 25 minutes or until the top cracks and a skewer inserted comes out with fudgy crumbs attached. (Mark Olive recipe)
What are you waiting for? Get cooking!
Read More about how Gowrie NSW educates children about reconciliation here

Topics: News, Health and Nutrition