Why work in Childcare?
We all know working in child care is a rewarding job…(and fun). But have you ever considered why?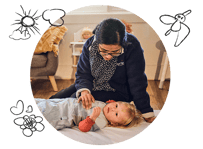 Working with children can be a magical, truly rewarding experience. Sure, it can be challenging at times, but children bring out the very best in us…and we have a unique opportunity to make a real difference . In this article, we take a look at the top 9 reasons to work in childcare
Working in childcare is rewarding
Working in childcare means you make a real difference in the lives of young children every time you head to work! You'll see their development firsthand, as they grow and flourish.

The first five years are so important for the cognitive and emotional development of children, and in a Gowrie NSW centre, they spent a lot of time with their primary educator. This means you can inspire their love of learning and help them develop those ever-important social skills.

Watching children's faces as they discover and learn can be a real incentive to get out of bed in the morning. While it can be challenging work at times, reports from Gowrie NSW educators and childcare workers suggest the highs outweigh the lows, and the feeling of really "giving something back" is incentive enough.

Many of our childcare workers tell us it is a privilege to play a role in children's lives during those vital first five years.
Working in childcare is flexible
Don't really like the standard 9-5 at a desk? That's okay, neither do we. No two days are the same when you work in childcare. Shifts in early childhood education might look like this..
- 7am – 3pm
- 10am – 6pm
- or anywhere in between.

It means there is always time at the beginning, or the end of the day for you!
Working in childcare offers a fantastic work/life balance
It's tough to find a career that delivers a truly great work/life balance. Childcare is one of the few that do, thanks to a constant high demand for early childhood teachers and educators. So, you may decide to start a family and need to transition to part time or casual work. Or you may need to change your days to care for someone. Childcare is an industry that works hard to accommodate a flexible work/life balance.
Working in childcare is FUN!
Working with children brings many childcare educators joy. Children are truly amazing. Working in childcare means you get to enjoy the cuddles and laughs, the endless energy, their honesty, creativity and resilience. It really doesn't get much better.
Working in childcare means you'll have a meaningful impact on someone's life
Knowing you've made an impact on a child's life is an incredibly humbling feeling. Educators encourage children to develop confidence, resilience, and self-esteem, and watching a child develop, learn, grow and succeed under your guidance is an incredible feeling. There aren't many careers where you have this kind of impact.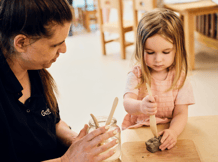 Working in childcare helps to set an education foundation for lifelong learners
Through primary educator relationships, you can help children feel safe and secure, allowing them to engage in fun early education play activities that help them learn and develop into lifelong learners. It's a privilege to share in young children's joy, enthusiasm and spark, and a wonder to watch children share, make friends, gain confidence and make decisions.
Childcare workers truly lay the foundation for lifelong learning.
Working in childcare delivers great career prospects
Our growing population, and increasing number of people in the workforce has meant that there is larger demand for childcare placements. TAFE's, universities, VET provider or RTO offer many different options. Many centres have their own pathways and traineeships, scholarships and ongoing opportunities to further your education.
Achieving an early childhood qualification can lead to any of the following potential jobs:
Early childhood educator
Early childhood teacher (ECT)
Educational leader
Coordinator of family daycare, school-age care or mobile services
Centre manager
Area manager
Operations manager
Child development or support worker
Early childhood intervention specialist
Early childhood consultant
Early childhood assessor and trainer
Early childhood officer
Working in childcare gives you the opportunity to be creative
Unleash that creative spark, each and every day. Finding something magical in collecting leaves from the garden, or finger art, loose parts, string , craft and dance. But creativity isn't just these things Creativity is the journey we take to develop our imaginations, originality, productivity and problem-solving abilities. And because Gowrie NSW has a play-based approach to learning, children enjoy open ended spaces, allowing them to express their creativity, together with you!
Working in childcare means you'll never be out of work
In 2022, there are over 5 million children under 12 currently in some form of childcare service, and this figure is only going up. Becoming qualified as an early childhood educator or teacher brings genuine long term career prospects, and endless opportunities for growth, flexibility and work/life balance.

Here at Gowrie NSW, we believe the biggest benefit of all in studying for a job in childcare, is the endless capacity for play while you earn!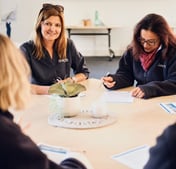 Working in childcare helps create wonderful partnerships with your team, families and communities
Partnering with families, building trust, developing relationships and being part of the broader community are fantastic for growth and connection. It helps to increase your circle, and develop confidence.
Are you ready to start your career in childcare?