An interview with Sonia Brooke
In February 2023, Gowrie NSW Education Hub is hosting an inaugural wellness event called 'Especially for You'.

The event is dedicated to the wellbeing of education professionals and provides an important professional learning opportunity for attendees to listen to informative keynote presentations about:
posit

ive psychology

leadership

using strengths for nurturing wellness and resilience
A carefully curated selection of keynote presentations and hands-on workshops will focus on practical wellness tips and creative tools for teachers and educators to use both professionally and personally. We have listened to the education community who have told us how challenging the past few years have been and we aim for this day to provide an invaluable space for connection with others, to learn together to uplift our personal and professional wellness.
Meet our Keynote Presenter - Sonia Brooke
We are excited that Sonia Brooke will join us as a keynote presenter. Sonia is an inspirational speaker and shares her knowledge in a relatable and warm way.
Working as the Head of Organisational Development and Design at Mindstreet, an organization that supports individuals and teams to unlock growth to positively transform culture to deliver improved performance, team engagement, empowerment, and enablement. Sonia is a strong advocate for applying growth mindset principles to all facets of life. She finds purpose in helping individuals, teams, and organisations make small but influential changes that enhance their overall wellbeing.
Jessica Horne-Kennedy asked Sonia some questions about her upcoming keynote presentation at the Gowrie NSW Wellness Day.
Can you share a little about who you are, where you are from and how you found yourself interested in the principles of growth mindset.
I was a teacher with the NSW Department of Education for over 15 years. Throughout my time as a teacher, I noticed increased levels of anxiety and mental health issues with students, parents, and peers. My natural desire to help others led me to explore psychology in my own time, with my aim being to gain some understanding of why people behave the way they do and find out more about how to help myself and others live more fulfilling and content lives.
The area of psychology I most enjoy reading and learning about is positive psychology (particularly the work of Martin Seligman, Carol Dweck, Angela Duckworth, and Lea Waters). The impact on students and parents of having a growth mindset approach to difficult situations, of being gritty, when combined with an understanding of character strengths is remarkable.
This deep interest inspired me to continue my education and complete a Psychology degree at the University of New South Wales. This helped develop my understanding of psychology across the life span and how each life stage relates to brain function, mental health, and psychological development. The course explored how these relate to individuals within a cross-cultural perspective, which I think is essential for a complete and compassionate understanding of any individual.
In your keynote, you will share how we can identify the strengths within ourselves and in others. In a nutshell, where does this approach come from and what are the benefits of it for an education setting?
There are some well-defined ways, backed by scientific research, that can help us identify our strengths. In the first section of the presentation, I will cover how to identify strengths, and explain how to use them. The presentation will incorporate some reflection activities to get you to start putting the research into practice.
Strengths-based science sits within an area called positive psychology. Research shows that individuals who understand and use their strengths are more resilient, and optimisitic, and are less at risk of developing depression and anxiety.
Within an education setting, knowing these tools and how to apply them can benefit both students and teachers alike.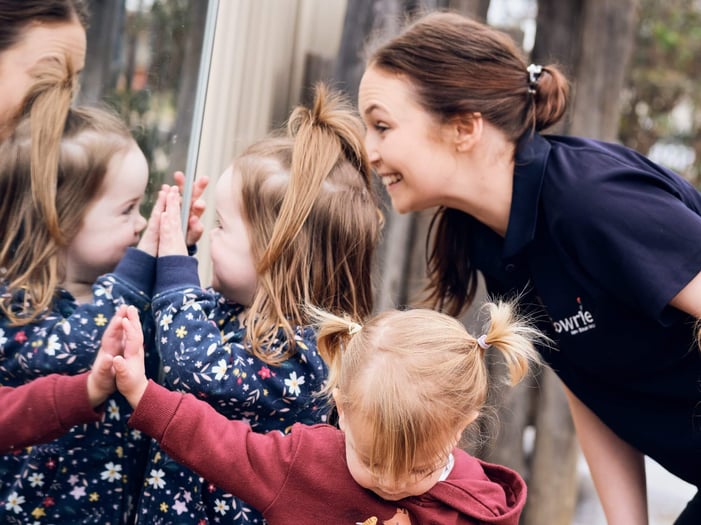 Working collaboratively and in harmony with others in an education setting is so important because it creates a positive learning environment for children- how can knowing our strengths help us to create positive relationships and teamwork.

Positive professional relationships can be built by recognizing one's strengths and understanding the strengths of others. By being aware of your strengths, you will be able to determine your value to a team or group, and you will be able to identify the people with whom you work well.

For example, if you are highly organised, then you might add a lot of value to the team by taking charge of how you will arrange all the storage facilities within an education setting. If you have this trait, you might work well with someone who is creative, since they will complement your organised approach by creating an interesting and exploratory environment for the children.

Currently in the education sector, we are hearing about the ongoing pressures of working in such challenging times. People are feeling exhausted and overwhelmed and for some it can be a challenge to 'show up' and continue the amazing work they do with children and families.
What can attendees expect from your keynote that will support their wellbeing and help them with the essential work they do each day with children? 
As humans we have a tendency to focus on the negative (negatively bias), something I will cover in my talk. By understanding how these biases work and how to look beyond them, leaning into your strengths, we are able to reframe the way we look at situations which then can reduce the stress and exhaustion we can sometimes feel in our everyday life.
For the Wellness Day in February what are you most looking forward to sharing with the group?
I think what is most exciting about this research is the simplicity of it. Creating small shifts in our everything thinking can offer enormous results.
Register now for this specialised professional learning opportunity
Topics: News, Teaching Strategies and Practice