The role of an early childhood educator is complex, and no two days are the same. Some moments will be joyful while some can be difficult. For some educators, it can feel especially challenging when faced with unexpected behaviour and the need to support children who are seen to have challenging behaviours. When it comes to managing these behavioural problems, the techniques used in childcare settings and early education and care centres are often largely different to those used by parents.
Implementing a management plan is crucial in helping to create strategies that support a child's behaviour, with the objective of providing children with a positive learning environment by establishing chances to recognise and reinforce positive behaviour.
What is a Behaviour Management Plan?
A behaviour management plan outlines the strategies that can help support a child's behaviour. By implementing such a plan, teachers, and educators support children to be aware of their actions and focus on promoting positive behaviours. Before developing a plan, documentation is required or each individual child. After this information has been collected, it can be used to create a plan.
Documentation of a child can include observation of behaviour, input based on discussions with parents, and relevant background information on the child. By collecting this evidence, you can make well-informed choices.
Understanding Behaviour Management Plans in Childcare
A behaviour management plan in childcare documents ways an educator can guide a child to learn strategies to self-regulate and manage their behaviour. The plan is often developed in consultation with educators, parents and guardians, and families with the aim of understanding behaviour in order to create appropriate management strategies. This can help children learn how to behave and can reinforce positive behaviour.
Is There a Difference Between a Behaviour Management Plan and a Behaviour Support Plan?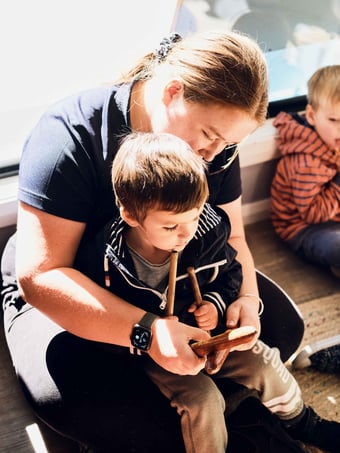 Often used in an educational setting, behaviour management plans encourage appropriate behaviour by using strategies that build confidence and self-esteem in children. A plan helps provide children with support, opportunities and guidance to manage their behaviour, and promotes collaborative approaches to behaviour guidance through partnerships with parents, carers and families.
Separately, a behaviour support plan is commonly used in healthcare settings for someone with a disability and is prepared in consultation with their family, carers and other specialist support and inclusion professionals, to address complex behaviour.
When Should You Use a Behaviour Management Plan?
A behaviour management plan will be most effective when there is a foundation of strong, response relationships established in the childcare setting. This means that throughout the first few days of childcare, educators should spend time with each child, observing and becoming familiar with their personalities and ways of behaving in the setting. From this foundation, the strategies within the plan can be introduced and practiced with each child the focus being to promote the positive behaviours desired for the setting. This approach sets expectations and teaches children the kinds of behaviours that are necessary for friendship and collaboration with others therefore preventing negative behaviour in the future.
There may be times where it is necessary to write an individual behaviour management plan for a child. A plan like this provides an additional tool to support teaching and learning and will aim to respond in a proactive and positive way towards problematic behaviours. Effective behaviour management plans will provide tools for children to manage their behaviour focusing on positive reinforcements and allowing children to recognise stressors in the environment that may contribute to specific behaviours emerging.
The benefits of a management plan include:
Empowers children to self-regulate their own behaviour

Teaches children about the expectations of behaviour in the early learning setting

Provides a framework for

social-emotional learning

Environment becomes less interrupted and chaotic but more responsive to the holistic needs of the child

Teachers and Educators understand and quickly identify the underlying causes of problematic behaviour

Easier to provide additional support for children in need

Creates strong, trusting relationships

Appropriate behaviour can be positively reinforced when recognised
How to Create a Behaviour Management Plan
When creating a general plan, it is important to consider the following steps:
Develop routines and expectations for behaviour ahead of time, communicate these routines to the children, and practice them several times.

Create visual and verbal prompts to articulate the expectations for the setting. Begin with developing 4 to 5 prompts, ensuring they are in a positive language. For example, "we walk inside" instead of "no running inside", " we use our gentle hands…"

Keep the lines of communication open with parents and carers so that they are aware of the approach taken within the childcare setting. If children have difficulty with the expected routines, set up time to discuss this with the family so that the approach taken is a collaborative one and additional strategies can be discussed.

Praise and reward positive behaviour - Children should be recognised for doing something correctly - especially children that struggle with their behaviour. By recognising, praising and rewarding good behaviour, it can affect their overall attitude and how they respond to you. It is important to remember that positive reinforcements are varied according to the age, abilities, and interests of the child.
There is no set layout for a behaviour management plan, however, it is important to consider the following:
Child's name and age

The date

Background information - culture, family structure, family information, developmental profile

Behavioural indicators - a record of specific behaviour

Events - any triggers or stressors that may be the cause of the child's behaviour

Intervention - how you want to change the behaviour

Aims - specific examples of acceptable behaviour you are focusing on

Strategies – specific teaching strategies that will be used to guide and teach children about their behaviour and promote positive pro-social behaviours. Include information about the strategy such as if it involves other children, their family, or other staff

If behaviour poses a safety risk to others- prioritise the behaviour from most to least harmful

Monitoring behaviour - identify the best method to monitor behaviour, keep records of behavioural changes - dates should be added to keep track of these changes

Support - whether additional support is needed from others or professional services

Evaluation - evaluate the existing plan, make any relevant changes, and follow up where necessary
Behaviour Management Strategies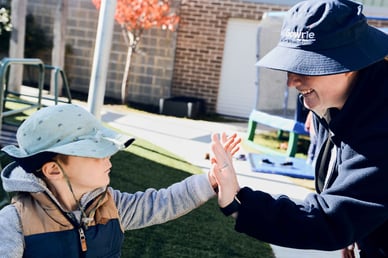 Understanding how and why children behave in certain ways can help educators and parents respond sensitively and effectively to children that demonstrate challenging behaviours. Early childhood educators can positively support and manage children's behaviour by implementing simple, yet consistent routines and expectations - advising parents and carers of these approaches, and encouraging them to apply these ways of fostering positive behaviour at home.

 Some effective behaviour management strategies that can be effective at childcare and at home include:

Keeping expectations simple and understandable – depending on the child's age find meaningful ways to communicate these expectations with the children – this may be through modelling, brief discussion or visual prompts or cues. Some examples include helping each other, being kind to each other, including others in play.
Meaning what you say - Use "do" instead of "don't" - word sentences carefully when guiding the behaviour of children. Sentences should be short and easy to understand, focusing on what to do, rather than what not to do. For example, say "use your inside voice" instead of "don't shout". Also, role model the behaviour you expect – if you are asking for quiet voices then ensure that your voice is quiet when speaking and providing instructions too.
Encouraging children to set good examples for each other - encourage dispositions such as kindness and inclusiveness. When you observe these behaviours acknowledge them in a positive way to the children.
Scaffold learning about positive behaviour through your relationship with the child. For example, if a child throws a toy on the floor, engage the child at their level and show them how to clean up by packing away the toys together.
Teaching children conflict resolution and problem-solving - Assist them in recognising feelings. Clearly identify problems, think of resolutions, and try different solutions
Use play experiences to teach social skills. Some examples include reading books to show problem-solving or playing "what if" games to encourage critical thinking
Use positive reinforcement and praise as a teaching tool - Implementing praise and encouragement phrases allows children to understand why you are proud of them. An example might be "You did a great job at putting the toys away! You remembered to put them in the right place"
Rewarding good behaviour - Try to provide positive feedback to each child, every day. Consider acknowledging good behaviour in front of other children
Respecting children - If children are displaying negative behaviour, talk to them privately, instead of in front of others. Remind them of the positive behaviours that are expected and talk about what they can do differently
Setting a good example for children - Children often imitate behaviour they have observed from adults. Be a role model for positive behaviour so children are guided towards positive ways to interact and communicate with others.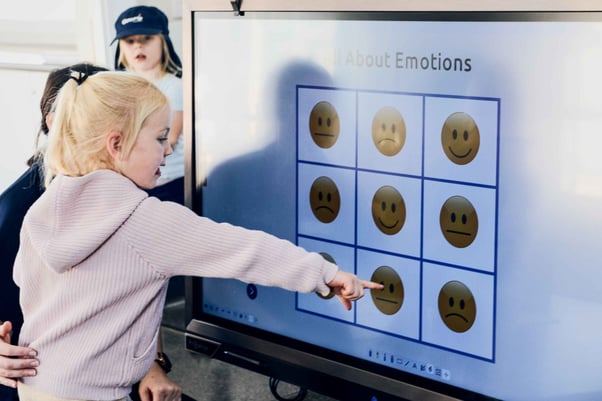 Behaviour Management Plan Examples
There are different types of behaviour management plans that can be used to help support children. These include:

Solution Focused Behaviour Plan - This creates a positive, problem-solving approach to resolve the issues relating to a child's behaviour. The plan details the strengths, concerns, strategies and support for the child, by breaking things down into five sections: who, what, how, why and when. A solution-focused approach addresses the subjective and emotional aspects of fostering positive behaviour. It also provides a range of solutions to meet difficult behaviour, while building confidence and encouraging change in the child.
Individual Behaviour Management Plan - This allows all educators to be aware of and committed to implementing positive support strategies for a child. When writing an individual behaviour management plan, include the name and age of the child, as well as the date. Other details to include might be behaviour goals, methods and resources needed to meet these goals, criteria for success, positive reinforcements, steps to follow if negative behaviours arise, actions, and when they should be completed. Focusing on an individual's behaviour can help to increase their understanding and encourage the positive behaviours that are necessary for successful participation and learning within an early education and care setting.
Childcare Behaviour Management Plan - A general behaviour management plan aims to foster positive relationships with children, allowing them to feel safe, cared for and supported. Consider creating expectations with children, repeating them, and recognising and rewarding good behaviour. Aim to use positive language in order to enable children to learn in an engaging and constructive manner.
Individual Behaviour Management Plan Template
There is no set template for an individual behaviour management plan, but consider including the following:
The addressing of National Quality Standards (NQS) 
Child's name, age, as well as a plan start date and end date
Concerning behaviour
Short term goals
Long term goals
The child's background
Alternative behaviours that require support
Antecedents of impending behaviour
Strategies and techniques to support positive behaviour goals
Reinforcements in place for positive behaviour recognition
Responsibility for recognising good behaviour
Internal support and resources required
External support
Date of review
Benchmark
2nd review date
Benchmark
Behaviour Management Plan Template Childcare
A general behaviour management plan in childcare may include the following:
Date
Objectives of the plan
Strategies to achieve the objectives
Staff responsible for preparing and applying the management plan
Action plan detailing what needs to be done to fulfil any objectives, who each task is delegated to, and the end date
Agreed steps for addressing challenging behaviours
Monitoring and reviewing the plan
Parental Involvement
A strong plan to manage behaviour cannot be created without parental cooperation, knowledge and support. Communicating and sharing ideas between educators and parents can facilitate a positive approach to supporting children's behaviour. The strategies raised in a plan should be implemented at home where possible, in order to create a supportive environment for the child.

Parental involvement can include:

Staying updated with behavioural changes at home and within childcare, through meetings or emails
A way of noting the behaviour between home and childcare
Where possible inviting parents to accompany children on excursions
Parents reinforcing positive behaviour and using positive language to redirect challenging behaviour.
Focusing on positive behaviour throughout the day
Once a behaviour plan has been written, parents should be informed, and a meeting can be arranged to discuss the plan. Once the plan has been agreed upon, parents may sign it if appropriate.
While a behaviour management plan isn't always necessary, it is often an effective approach when other methods have been unsuccessful.

Gowrie NSW Education Hub delivers a range of Professional Development webinars and seminars for Early Childhood teachers and educators. Start your professional learning journey today.
Topics: Teaching Strategies and Practice